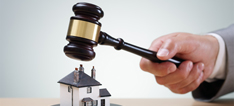 The real estate lawyers at India Law Offices LLP are well-known for their in-depth understanding and decades of experience in handling real estate matters and property law. Our team performs a detailed study of the disputes, issues and transactions and evaluates it from every possible angle before providing logical solutions to clients. ILO has assisted diverse clientele across India and abroad, ranging from individual property owners and small businesses to owners of large commercial properties as well as developers, secured lenders, loan participants, government bodies, bondholders, borrowers, landlords, tenants etc. Our years leverage years of knowledge and courtroom experience to provide authentic counsel and proficient representation.
Being a full-service law firm, ILO provides advanced solutions and strategy for routine matters to complex litigation and transactions. Our team works closely with their clients and assists them determining strategic and practical objectives and provides a clear, proactive and futuristic advice. Our lawyers also prepare legal documents required for the purchase, lease, sale or mortgage of any type of real estate property. We also advise clients on the applicable local laws like stamp duties and other necessary requirements of registration. ILO offers assistance with licensing and regulatory approval required from government authorities.
ILO also advises developers, investors and financing institutions regarding compliances under the RERA, across India. We assist our clients with registration of various projects including consulting with the in-house accounts and technical team wherever necessary. Our team has great expertise in the local property related laws that affect real estate transactions and we work towards building a bridge between fulfilling the legal requirements and designing a commercially viable solution. We understand that clients have great deal of investment in the outcome and therefore, ILO is proud of its extraordinary record in complex real estate matters. While our team is expert in providing customized and creative solutions that avoid court, however at the same time our lawyers are known for taking of real estate litigation when negotiations break down. Following are some of the areas that we cover under real estate practice:


S. No.
Services
1

Due diligence of property documentation, change in ownership documents and conducting title searches for others, homes, real estate projects, townships, industries and acquisitions.

2.

Provision and representation before all courts, forums, and commissions in the country for matters pertaining to real estate.

3.

Assisting developers, investors, and financing institutions on compliances under RERA, across different states in India.

4.

Lease deeds, sub-lease agreement, leave and license deed, maintenance agreement, commercial leases of property, no objection certificate, partition deed, power of attorney, special power of attorney, service agreements, amenities agreement, family settlement, sale deeds, agreement to sell etc.
Escrow agreement, builder agreement, construction contracts, bank guarantee, master purchase agreements, memorandum of understanding (MOU), mortgage deed, transfer deed, gift , change of use of the property, indemnity bonds, addendum, franchise agreement, plaints, interim applications and suits for specific performance of the contract.
EPC contracts, management and operational agreements for hotels, resorts and shopping complexes. Land development agreement, sale and purchase agreement, letter of intent, purchase orders, concessionaire agreements, performance related bonds, agreements with architects, construction contract, work and purchase orders, conducting agreements, and tri-partite agreements.

5.

Real estate related litigation including Landlord and tenant matters, Insolvency-related disputes (advising on a landlord's remedies in the face of an insolvent tenant), Neighbor disputes, Professional negligence actions, Major property transaction disputes, Enfranchisement, Family Disputes/Partition.
We would be happy to assist you!