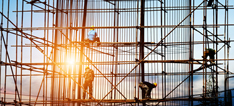 Adherence to labor and employment law is now-a-days one of the most important issues that all the companies have to deal with. Employment attorneys at India Law Offices LLP are proficient in advising clients on various rules and regulations that are mandatory to be complied with by the corporates doing business in India. ILO represents wide range of employers that include entrepreneurial start-ups, well established public companies and professional services firms. We help companies in protecting their business interests including their client base, confidential information and market reputation, achieving their commercial objectives and managing their workforce effectively.
Our attorneys advise clients from both India and abroad on the complex legal and regulatory structure of labor and employment law ensuring compliance with all the applicable laws and provisions. We also assist with drafting and reviewing of employment documentation and advising clients on various labor law related queries which includes ESOP, transfer or termination of employees, non-compete issues and others. ILO represents companies and the management on labor and employment related litigation.
Our employment lawyers are specialist in complicated employment and partnership matters with high stakes. They explain legal implications of any employment and partnership issues in a clear and concise manner. Leveraging on our decade of experience and deep knowledge, we help our clients in resolving sensitive cases creatively and deliver results which are in line with their objectives. Whatever we do is always in the best interest of our clients. Over the period of time, we have built long-lasting relationships with our clients and we have always put our clients first. Scope of our practice includes:


Services
Advisory on labour issues, employment contracts, structure of HR issues, and no liability of the key management towards labour laws.
Drafting of offer letter, appointment letter, termination letter & employment contracts and other employment agreements.
Assistance in various labour law compliances and maintenance of statutory registers
Drafting and vetting of companies' human resource policy.
Provision of labour law audit services.
Handling litigation in cases related to workplace discrimination.
Handling cases pertaining to workman, gratuity, maternity, minimum wages and so on sector specific labour law advisory on applicability, compliances, registrations and licenses.
Registration under PF & ESI.
Registration under Factories Act, 1948.
Registration under Shops & Establishment Act, 1953.
Registration of Principal Employer under Contract Labour (Regulation & Abolition) Act, 1970.
Obtaining trade licenses from local bodies.
Professional Tax registration, wherever applicable.
Payroll management.
We would be happy to assist you!