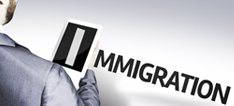 Specialist Immigration team of India Law Offices LLP has been advising businesses as well as individuals on all aspects of Indian immigration and nationality law for over a decade. As a well-known leader and one of the top immigration law firms in India, we have built a reputation for providing exceptional client service along with practical and strategic immigration advice. Whether you are an entrepreneur starting a business in India, a global entity transferring staff here or a family planning to move to India, our attorneys will assist you with the simplest to most complex matters.
With experience of a diverse range of sectors, including financial, creative, media, technology and others, we understand all the nuances in each industry and tailor our advice accordingly. Our lawyers assist with strategic planning, end-to-end sponsorship and visa support and provide comprehensive support with immigration compliance. For individual clients, we provide service to support investors, entrepreneurs and families moving to the India, offering optimum solution and providing a high level service to help them relocate, obtain permanent residence and Indian Citizenship.
Our attorneys will assess the case then provide a clear roadmap through the complexities of immigration law so that you can achieve your objectives. Our previous clients have often appreciated the in-depth knowledge of our team along with their pragmatic and responsive approach. Following are some of the services offered under our immigration expertise:
Immigration
Assistance in application and documentation required to obtain Indian citizenship under various grounds as per the Indian Citizenship Act.
Proficient in documentation process and compliance related work, preparation and submission of the complete documents with the concerned authorities.
Assistance in the application and filing of Overseas Citizenship of India (OCI) cards, long term visa, visitor visa, 'x' visa, dependent visa, exchange visa, medical visa, entry visa, student visa, tourist visa, spouse visa, fiancée visa, medical representative visa, employment visa, work permit ,multi entry visa, business visa and many more.
Providing opinions in cases of visa frauds and lapses.
Issues related to family or employee based naturalization and immigration sponsorship.
Draft, review and finalization of applications and petitions before various courts, commission, forums and other authorities/bodies for the registration of OCI persons, responding to queries on the immigration laws in India.
Representations before all courts, forums and competent authorities for immigration matters.
Advisory/opinions on all immigration related queries, visa refusals and many more.
We would be happy to assist you!