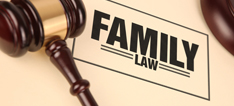 India Law Offices LLP is recognized nationally and internationally among the best teams of lawyers for our expertise in all family law related issues. Irrespective of the circumstances, family breakdowns are very stressful. Abreast and precise advise from an expert can make a big difference and ensure the process is completed as quickly and smoothly as possible.
Whatever the legal needs, our family lawyers provide on hand support to clients and fights to protect their best interests. Our team comprises of expert negotiators who help clients find an agreement that suits everyone and try to keep disputes out of court wherever possible. Our attorneys give time to understand each case and provide a tailor-made solution according to needs of the clients. ILO has wide network of offices across India and overseas with specialized lawyers who are considered leaders in their field.
Whether you are at the start of the relationship and making future plans (like before a wedding or when moving to India) or at the end of a relationship, our attorneys will work with you in a way that suits you best. Our clientele includes individuals from all walks of life and we collaborate with them to provide professional, practical and personal solutions that meet their objectives. We guide and advise our clients in the background or represent and fight their corner in the courts whichever is best suited. Regardless of the situation we put clients' and their family's interests first. Following are some of the areas where our lawyers can help you with:
Services
Description
Matrimonial Services

Marriage related assistance such as solemnization as per different laws, court marriage and as per the Arya Samaj Rules and registration thereof as has been made mandatory now.
Assistance in getting the non-impediment certificates for the purpose of marriage with a foreign national.
Divorce proceedings, both mutual as well as unilateral which includes drafting and representation both before the concerned courts and appeals arising thereof.
Counseling sessions in family related matters before divorce and mutual separation.
Drafting of petitions relating to other family related issues apart from divorce like judicial separation, restitution of conjugal rights, partition of property and further representations thereof.
Resolution of cases arising out of domestic violence and dowry harassment.
Child custody, paternity issues.

Inheritance and Estate Planning

Assistance in drafting of wills and codicils for various clients under different laws and registration of the same.
Assistance to clients in drafting of gift deeds and registering the same.
Drafting of relinquishment deeds, family settlement agreements, and partition deeds for various clients and assistance in the registration process.

Probate/Letters of Administration/Succession Certificate

Represent the clients, both domestic and NRI'S before different jurisdictional courts for obtaining probate of the will, letters of administration and succession certificate.

Ancillary Probate

Represent the foreign national clients for obtaining ancillary probate on a will already proved and probated by a foreign court of competent jurisdiction.
Adoption: inter-country and in country adoption both as per the CARA guidelines and as per the personal laws.
Assistance to NRI's in resolving matrimonial disputes, alimony issues and dowry harassment cases pending before various courts throughout the country.

Surrogacy Assistance

Draft and review of the contract between the surrogate mother and the intended parents and agreement between the intended parents and the egg donation centre in India.
OCI surrogacy, NRI surrogacy, exist visa surrogacy, FRRO surrogacy and terms and conditions of the contract pertaining to surrogacy.
Advisory services provided with respect to the surrogacy law in India and review of terms and conditions of the surrogacy agreements such as financial terms and so on.
Tripartite agreement between the surrogate, hospital and the intended parents.
We would be happy to assist you!